PROS by Ditel control dashboard and electrical panels are based on the PROS modular system.
Combining 4 panel sizes each other, we obtain the dashboard and the electric panel of leisure or professional boat.
X Panels 240x130mm – L Panels 120x130mm – M Panels 120x65mm –S Panels 60x65mm
PROS switchboard panel:
It adapts to the space available on the boat and not vice versa
Fits current needs and allows further enlargements.
Flexibility in the choice and arrangement of panels according to the orientation switchboard panel.
Diversity of choice and combinatorial of parts that integrate the panels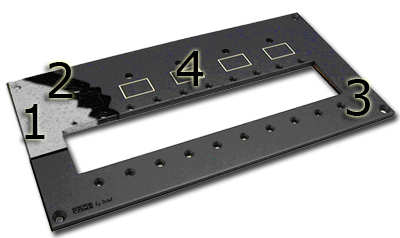 1: Plate made of ALPUR 4mm thick aluminum. High rigidity against deformations and resistance to marine atmospheric agents.
2: Anodized aluminum by anodic process of ± 20 μm. It hardens the surface and makes it more resistant to abrasion and corrosion.
3-4: The paint used is acrylic type modified with epoxy resins. It increases resistance to marine environments and gives a feel and look elegant.